Building a Sustainable Region
October 10 | 2013
News | Sustainability
Our concepts and designs can be found in the recently released Building a Sustainable Region, a report highlighting the sustainability contributions of 18 of Chicago's Fortune 200 companies.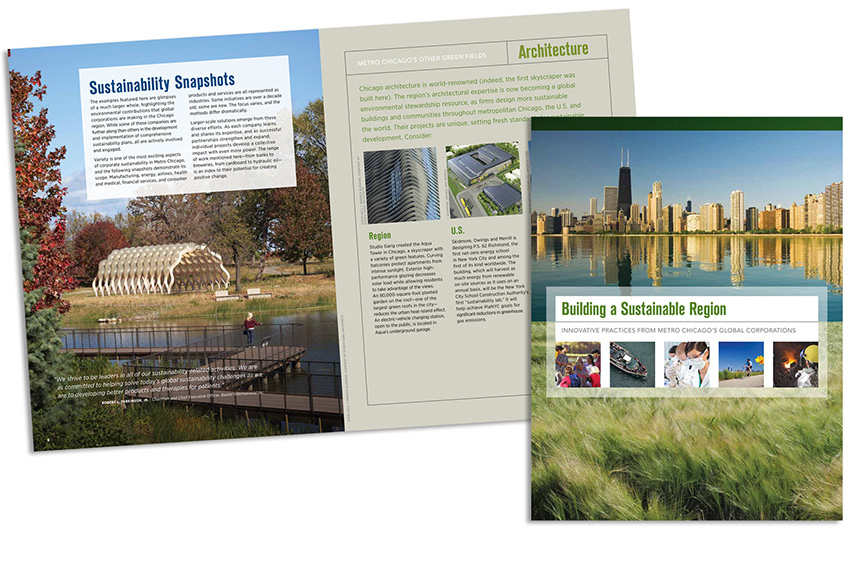 FEATURED
Abbott Laboratories | Allstate Corporation | ArcelorMittal | Baxter International Inc. | The Boeing Company | Ecolab | Exelon Corporation | Hyatt Hotels Corporation | ITW | Jones Lang LaSalle | McDonald's Corporation | Merchandise Mart Properties | MillerCoors | Northern Trust | S&C Electric Company | Sears Holdings | United Airlines | U.S. Equities Realty | Walgreens
"Improving sustainability throughout Chicago is a vital aspect of making Chicago the most livable city in the world. I am pleased to see this approach mirrored by Chicago's corporate community."
Meeting the goals and expectations of the report's stakeholders, we developed a concept that combines lush imagery of the city's green spaces, active shots of corporate sustainability programs, and data "callouts" to highlight key success stories. View the full report or visit the City of Chicago's Environment and Sustainability page for more information.