November 20 | 2015
News | Campaign
For the first time in 50 years, camping facilities are available to the public throughout Cook County, IL. Studio V Design was selected to develop the visual identity, digital campaign and marketing communications to promote the campgrounds and entice Chicagoans to experience the great outdoors.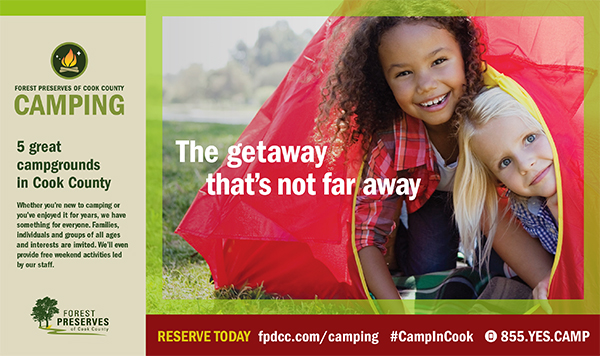 Our Media Plan targeted diverse ethnic families throughout the Chicago metro with a Google Adwords/PPC campaign, website display ads, digital and print newspaper ads, and radio. We placed display ads on several travel-related websites, and then built a Google Adwords campaign that identified negative keywords to ensure a low CPC; focused on keywords that have low competition; and restricted geo-targeting to Cook County residents.
We also wrote and designed the sales brochure, and coordinated ad placements and managed the media vendors.
The results? 14,000 campers in the first year and 40,000 anticipated for year 2.