October 07 | 2015
News | Awards | Education | Event
Each year, Unisource / Veritiv, a global paper distributor, hosts a Paper Show in Chicago… where the city's design community gathers to see innovations in paper, to be inspired, and to see the year's best in-print designs. It's the designer gathering of the year.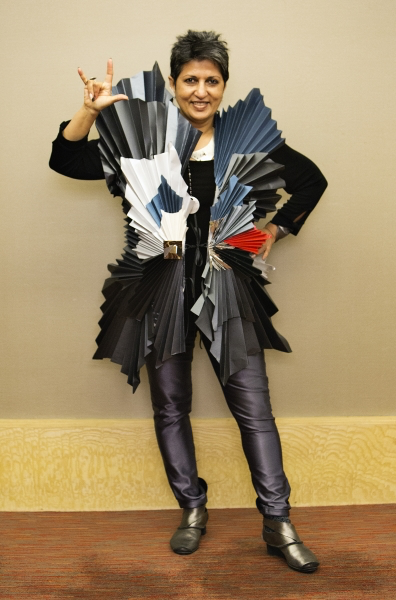 Studio V Design was honored to have two outstanding projects in the paper show: The UIC BUSINESS VIEWBOOKand the 11th PREMIER ANNUAL REVIEW, "RESULTS: How Do You Get There?" 
But for us, the real highlight of the show was that Pooja had the honor of making a keynote address to our peers.
The topic? YOUR PAPER PERSONA
But what type of paper would Pooja's personality most closely match? Metallics, obviously! And it only took her about 3 seconds to decide. She LOVES paper, so in this digital age she had a smile on her face for the 72 hours it took to physically touch, design, engineer and construct her metallic paper jacket for the presentation!
You can 
watch
 Pooja's keynote address, or read it here:
My persona? METALLICS. You see, I suffer from SOS – Shiny Object Syndrome. You know the saying, "less is more?" For me, "more is not enough."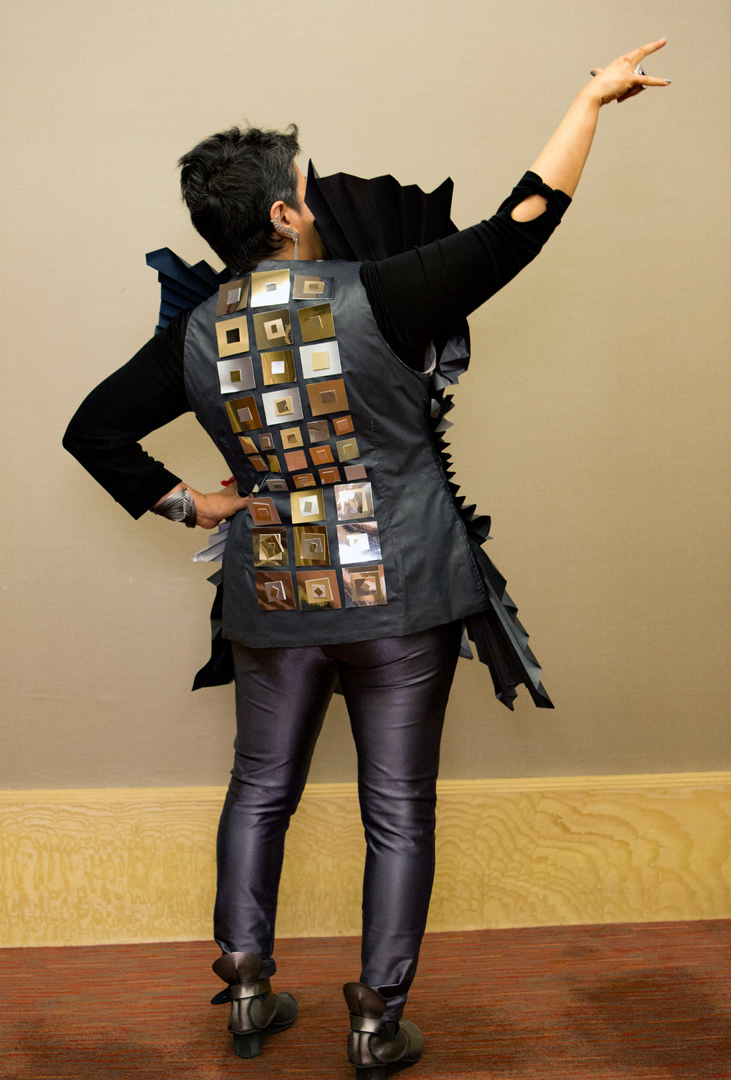 In a distracting world, I'm drawn to what's new, sparkling, dazzling – to what gets attention. METALLICS are a way to stand out and be different, unique. 
And that's the way I dress my clients' brands. In something unique.   
What does the word "persona" actually mean?   It comes from the Latin word meaning "mask" – what we show the outside world. But for me, I don't hide behind a persona. It's who I really am.   
My persona has many facets, many moods. And METALLICS shift and transform with each of them. (I can dress it up with shiny gold embossing and foil stamping … or keep it subtle and elegant.)   
So, Lady Gaga might have her Meat Dress. I'm METALLICA!!