Prescription for a Magazine Make-over
February 26 | 2016
News | Education


How do you give a fresh face to a 150-year old legacy? The University of Illinois College of Pharmacy is one of the oldest in the nation. They have a vibrant research mission, an innovative clinical program and a strong commitment to diversity.
But their magazine – a crucial marketing tool to reach alumni – looked as old as the school. And each issue took forever to produce using internal resources, resulting in missed deadlines and missed fundraising opportunities. The magazine and the entire process needed a makeover.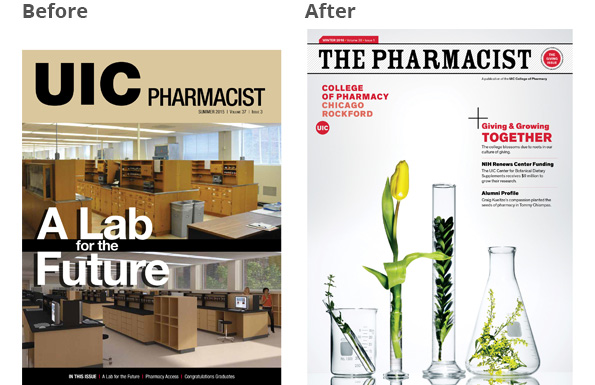 We at Studio V Design had just finished rebranding the entire university, so that gave us the opportunity to integrate the new look-and-feel. The new masthead mixes the old and new by surrounding nostalgic typography with clean, contemporary lines. For readability, we added more white space and converted text to infographics wherever possible. And for process efficiency, we instituted a rigorous project schedule, brought book-mapping into the planning stage, and introduced the client to a collaborative editing tool (Adobe InCopy) and project management system (Basecamp).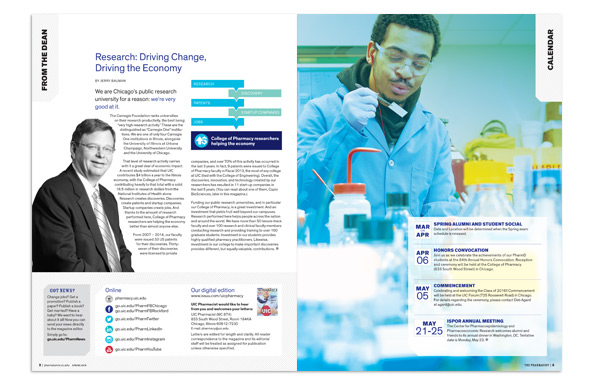 The new magazine was ready on schedule and in time for the critical end-of-year fundraising push. Our re-engineered process raised collaboration between editors, writers, photographers and our team to new heights. Best of all, the magazine's fresh new face now captures the college's spirit of innovation while still respecting its 150-year history.